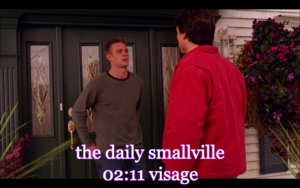 02:11 VISAGE
Prologue
Lana checking Clark out. Clark missing their talks. I thought they were supposed to be friends?!

Whitney's been missing for a month

 

The necklace is back!

 

Whoa wait. It's the real Whitney! In Indonesia. I didn't think we would see him again.

 

Damn Smallville. Trying to blow him up real good.

 
Act One
writers Todd Slavkin & Darren Swimmer / director Bill Gereghty

Chloe: "One by one our heroes are being defrocked". Episode setup clue

 

This is a busy Smallville High hallway scene compared to previous shots.

 

That's not Whitney

Ha! Clark leaves Lana's books on the ground.

 

Pa being all patriotic. Saying Clark has to go to Lana's party for Whitney.

 

Whitney: "Some of my memory was wiped out". Yup. It's not him.

 

Uh oh. Helen Bruce has a secret partnership with Lionel. Probably isn't what it seems compared to Whitney's situation. These episodes like to double up themes or show opposites.

 

Whitney goes all ragey on Clark. He's still not that great of an actor.

 

Ooop. Okay. If you didn't know by now, that scene should be enough proof.

 
Act Two
Imposter Whitney trying to get Lana to move in with him. The show never really talks about their age gap does it?

Lex: "People are seldom who they appear to be"

Clark x-ray's Whitney. Is he a robot? Oh damn!!! It's Tina Greer! From 01:04 X-Ray! Haha. Nice surprise there. I thought the fellow soldier took over Whitney's form somehow in the explosion. Nice twist.

 
Act Three
again. They should come to the realization about Whitney and Tina sooner after everything that has happened.

 

Oooop. Tina has Lana put the beat down on Pete. Why didn't he call out to Clark?

Ah there it is. The legality of the relationship between Lana and Whitney. It's in one small bit of dialogue when "he" asks her to marry him.

 

Haha. John Schneider playing as Tina.

 
Act Four
Such a small piece of kryptonite to knock Clark out. I always question the immediacy of the poisoning. Why can't he grab and throw it?

Kate from Lost at the Talon!

The ship just woke up!! And knocked out the kryptonite necklace. Whaaaat?

Oh this scene is creepy considering Allison Mack's future.

 

Another Clark/Lana kiss where one of them isn't what they seem.

 

See Lana! Start listening to your friends! You just went thru the double thing with Ian. Why wouldn't you think it could be a possibility that something is going on when everyone is acting weird! This is the part of the episode to episode watch that is frustrating.

 
Act Five  
Lana knocked out again!!

 

Clark Vs Clark! This had to be fun to film.

 

"I'm going to kick your ass Kent!" Hah. This fight is outrageous

 

Dead Tina.

 

Ooop. Whitney really is dead. Died in combat

Clark wondering if he could have the same courage without his powers. Ew. Don't compare to Whitney.

No question about the ship?!

Lex and Helen make up. Surprisingly I don't really have any connection here. It just feels like they have to put Lex in every episode so this is how they handle that for this chapter.

 

Mad World? Love this song.

 

Oh no the caves. Blehhhh.

 

Lana sad that everyone leaves her. Even Whitney. What? Girl he died! What the heck. Selfish much?

Okay at least we get some forward momentum out of Lana and Clark by her recognizing that Clark is always there for her.

 

fun episode. Nice Smallville callbacks while resolving the Whitney story. And also the Tina loose end. Ending gets a little sappy but overall not bad.

 
Next episode: Insurgence!