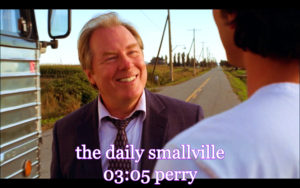 03:05 PERRY
Prologue
Comet hits sun. Solar flares. Amped powers for Clark?

Clark: "I think I'll run."

Perry: "Do you believe there are powers greater than we can know somewhere in the universe?"

 

"Kans-ass-ians". Ha.

 

Yup. Looks like Clark overran his mark

Perry White meets Clark! So this is why Gotham had all of the Batman characters meet or show up or were created before there even was a Batman. Because Smallville did it first. Although I'm sure Silver Age Superboy comics probably did the same thing.

 
Act One
writer Mark Verheiden – seems to write all the eps that are directly Superman related: X-Ray, Heat, Dichotic where Pete finds outs, etc. / director Jeannot Szwarc

Michael McKean as Perry White. Works for X-Styles. Haha. / McKean is married to Annette O'Toole at this point. Nepotism!

Lex in therapy with Dr Claire Foster. Actress Lorena Gale who will play

 

Elosha on BSG. / just learned that Claire Foster is a character from the Jeph Loeb Superman run

 

Damn Perry. Dropping the Time magazine of Lana in front of her face

 

It's been 14 years since the meteor storm

Now Perry is going after Chloe; but she knows who he is.

 

McKean wouldn't be my first choice for Perry but he's pretty good in terms of playing a man at rock bottom with a history

 
Act Two
Lex really hasn't had much to do these past three episodes.

 

Lana comes to Lex to get Perry to stop asking questions; Lex seems to know of him; is it any wonder Lex has a need to put himself into the lives of those around him? Or that he feels he is important. Clark and Lana are always running to him.

 

And now Perry and Lex! Perry and the Luthors have beef. Of course.

 

Lex and Perry met when Lex was 16

The tractor! Ha. This is the episode where that's from.

 

Clark isn't being smart this episode around Perry

 
Act Three
more fuel for the sheriff concerning Clark

"And don't call me chief." Ha.

 

"Having a story of the lifetime and being afraid to write it." About Lionel. Wonder what that's about?

Uh oh. Now Perry will probably point Chloe toward Clark even more. Lionel can see it. Perry as well. Come on Chloe

"We have always wondered about the source of your abilities." / "All the things I can do they come from the sun". Here we go!! Some insight into his powers. Just like the comics. And giving Clark insight into his physiology.

 

"If you don't let your demons out they will consume you". Dr. Foster recommending more therapy

 

"If you got a gift you should use it" / "Smallville's own hero on deck"; Perry got the info from the police records. See? About time someone put all that together.

 

Perry sounds like he's going to do something.

 

Haha. Clark's extra boost of speed looked cheesy
Act Four
Clark ran all the way to Lake Tahoe

Perry wants everything Lex knows about Clark Kent. And now Perry, like Chloe, is feeding into what Lex already knows about Clark but just can't admit to himself.

Lex is going off on Perry.

 

Clark's heat vision goes haywire

 

Perry explaining himself to Lana

Saunders Gorge

Perry trying to get the story; this is like Lois throwing herself into the Niagara

 

Perry sees that Clark has a hero complex

Perry White jumps. With a rope tied to his ankle. And his leg doesn't come off?!?
Act Five
I dunno. The physics of this scene don't make sense.

 

Perry is struck by his own actions towards Clark, someone who is ultimately a good person.

 

Yup. Lana showing Clark he's important to her. In the way he used to do for her

 

Chloe disappeared from this episode.

 

Perry sees Clark's inherent good.

 

"If you ever are in metropolis look me up. I owe you one". And thus that part of Clark's future legacy is cemented.

 

"Walking in Memphis". Odd song ending choice? Unless it's because of the song's autobiographical tone

End credits: I just saw that Peterson and Souders are now Story Editors for Season Three. Let's see how that turns out.

Good episode to introduce this part of Clark's future. Even if some of the beats are the same – such as Perry's curiosity about Clark, where those immediately around him are oblivious. A nice episode to wrap up this week that pulls on the Superman mythos and nostalgia.

 
Next week: episodes 6-11!