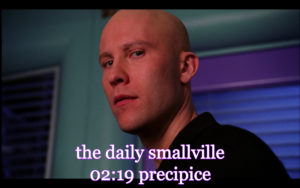 02:19 PRECIPICE
Prologue
what the heck. Why are Smallville men so terrible?

Uh oh. Clark is going to get revenge for the guys assaulting Lana.

 

The new sheriff!

 

Oh no. Clark in trouble with the law. AGAIN!!!
Act One
writer Clint Carpenter – who writes primarily for the early Smallville comics / director Thomas J Wright

the new Sheriff: "Hero complex / even heroes have to play by the rules."

 

Clark is charged with Misdemeanor battery

 

"Those good ol boys days are over" – Dukes of Hazzard reference!

 

Paul Hayden played by Anson Mounts. Black Bolt on ABC's Inhumans. And Captain Pike on ST Discovery.

 

Uh oh. Lex doesn't like this guy knowing stuff about Bryce.

 

"You're always there to SAAAAAAVE MEEEEE" /

is this Lana's start to learning self defense?
Act Two
Yup. Lex gives Lana the bug to learn how to fight

 

Clark: "They're a flawed race. Rule them with strength." The show now under the lens of what was learned in Rosetta.

 

Creepy Paul.

He's a psycho.

 
Act Three
Clark learns the guy he beat up is faking his injuries

Clark gets a lesson in girl power

from Chloe. This comes off surprisingly well. 

Lana and Bryce's story is connected here in theme. Except Helen is injured

And now we'll see the difference between Clark and Lex in response.

 
Act Four
Lana: "Lex has a way of bringing out a side of me that's both scary and liberating at the same time". Ouch. Careful there Lana. We know where this leads.

 

Smallville is in Lowell County

And again Clark shows up where Lex is

Clark turns away for a moment after seeing the dead body. Because of the nature of the death? I haven't really been keeping count on this.

 

Sheriff Adams

 
Act Five  
this looking for Paul sequence is going awfully long. It's like they ran out of story

Look at Lex growing up and not killing Paul. A semi-surprise shift from Clark's actions earlier. I just about assumed Lex would go his way, just as Clark did. Nice touch here.

How did the sheriff know where to go?

Superhero Lana. Now she has a role with Clark like he's had with her all this time.

 

And this is how we get Lex to propose.

 

Not a bad ep. Production is good. Acting is solid. Story is a little formulaic. But a few character stories get pushed in small ways: Lana's resilience. Maybe the seed of how Lex and Lana develop. The proposal. A new sheriff. Kinda wish the stuff with Clark acting out of anger was played up more.

 
Next episode: Witness!