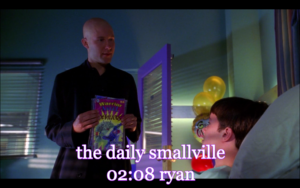 02:08 RYAN
Prologue
Ryan returns from 01:16 Stray. He's being tested on. Is that meteor juice in the IV?

Dr Garner played by Martin Cummins. Geek TV includes: MANTIS! Dark Angel. Painkiller Jane. V. And Sheriff Tom Keller on Riverdale! Thought he looked familiar.

Can you really crawl thru vents? Die Hard. Stranger Things

Ryan remembers phone numbers and calls the Kents. He's being held at the Summerholt Institute

Ew, needle in the head

Awkward transition to the theme song
Act One
Writer Philip Levens who wrote Stray as well / director Terrence O'Hara – worked on season 1 Reaper and Obscura

Edge City mention

The Mayor of Smallville played by William B. Davis, the Cigarette Smoking Man!

Lex trying to do things properly but the Mayor has other ideas

It's Nell again! Ohhh here we go. She's moving to Metropolis and wants Lana to go with. Won't be seeing her much anymore.

Clark: "Ryan's like a little brother to me." But only when an episode needs him to be.
Act Two
Of course Clark comes to the Institute / was that a Twister game carpet?

How did Clark get out of there with no one seeing?

Of course they go to Lex / No one knows Ryan has powers.

What was Ryan going to tell Clark? Something about Lex?

Lex asking my questions. Calls Clark the luckiest guy he ever met. Yup.

Uh oh. It's Sheriff Ethan. Clark in trouble with the law. Again! Seriously – he has to have a potential rap sheet by now.
Act Three
Ryan about his aunt: "She couldn't accept the fact that I was different" – a connection to feelings Clark has had.

Lex to the rescue

This is all like a path that Clark's life could've taken – but the episode doesn't really reference that outside of sad looks by Clark

So much camaraderie for a kid no one talks about

Vonray at the Talon singing Inside Out

Ryan spilling all the secrets: Apparently Pete is stressed over Clark's secret. And Lana moving to Metropolis

Kristin Kreuk is a mouth actor

Martha has a secret?? Whaaat?

Fantasy Comics Warrior Angel in a homage to Action 1 of course

Oh no! He bled on Warrior Angel issue 107! No more near mint!

Scene Transition from domino mask to Clark's face. Feels outdated and super obvious.

Clark has a fear of flying. I think it was a fear of heights in previous episodes.

Ryan's dying. And no one can SAAAAAAAVE MEEEEEEEE. Sorry. I should be more sympathetic but ehn. Another quiet episode that's decently produced but I'm not invested in Ryan as a character.
Act Four
Clark: "I can't help Ryan. What kind of hero is that?"

Pa: "We have to pray for the best"

Child emancipation for Lana

Hub City mention

Lex falls onto the potential for Ryan to have ESP powers. But cagey Clark doesn't spill the beans

Lex again stepping up giving Clark good advice about spending time with Ryan

Issue #66. Devilicus and Warrior Angel were once friends.

Ryan: "Why do you think Devilicus went bad?" / Lex: "the road to darkness is a journey not a light switch." / "You should remember that Lex."

Clark just ran to Hub City. Perhaps the farthest he's traveled? 400 miles? Running effects not quite polished just yet.

Dr Burton
Act Five 
Mayor Tate. Lex is going after him politically

Mayor: "Outside interests controlling this community." Like Morgan Edge in the current Superman & Lois.

Lana is going to stay with Chloe

Hot air balloon. I guess Clark got over his fear of heights.

Ryan wants Clark to look after Lex and to never give up. Motivation that I doubt will come up again.

Lyric: "Are we ever, are we ever gonna learn to fly"

Ryan dies and life goes on. I'll be surprised if we hear a mention of the character again.

Totally fine episode. I just don't connect with this small addition to Clark's Smallville origin.
Next episode: Dichotic!