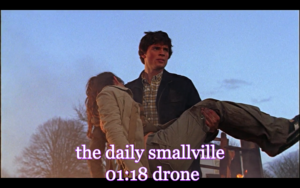 01:18 DRONE
Prologue
cgi bumblebee. Obvious foreshadowing.

Election for class president coming up. With Felice's group looking like a bunch of Mean Girls.

Paul Chan straight up ripping off Siegel and Shuster for his campaign poster

Who is the Queen Bee?! Sasha or Felice?

Prologue into the main theme was connected by Paul's scream but the cgi bee swarm kinda ruined it.
Act One
Greg Beeman EP. Ha. / Michael Green & Philip Levens writer / Michael Katleman director

Pete Ross the Kingmaker

Carrie Castle. Reporter. Trying to get a scoop on Lex

Lex about Smallville: "Nothing around here is what it seems."

Yea – Sasha definitely fits the introvert turned villain trope. But Felice has that Queen Bee with her drones thing. Hmmm?
Act Two
Surprisingly the Kents are behind Clark running for Class President

The Beanery is stealing customers from the Talon. I wondered what would become of that rivalry since early eps took place at the Beanery.

Lana notices Clark innate sense of justice.

Lex giving Clark advice: "The man of tomorrow is forged by the battles of today." That's not a bad theme for the entire show

"Truth justice and other stuff"

Yuuup. Sasha's the QB. LSH: Insect Queen again. Or Queen Bee.
Act Three
Chloe endorses Paul over Clark.

"Why does everyone over 40 quote The Godfather." Ouch.

Felice drives a Bug. Or a white bumblebee

Damn. That's a grizzly attack

"Leaps and bounds"

Back and forth dialogue between Clark and Lana about the election and the Talon felt super amateur.

Bee attack at the Talon! How does Clark explain the frozen bees?
Act Four
Clark says Chloe has been the most constant in his life through all of his changes. Some groundwork being laid there?

Shuster's Gorge. The largest meteor crater. Where Sasha was swarmed. Definitely a KMOTW without showing any actual meteor rocks. That feels like a first.

Sasha's wearing a striped shirt. / Clark standing up to Sasha – funny considering how short she is.

Uh oh another attack on Martha
Act Five
Clark Kent. Bee killer. Cool explosion tho

Clark quoting Pa: "you learn more about yourself when you lose"

Lex: "you don't need to be an elected official to change the world" / "someday I'd like to be president." / in the comics Pete Ross is Lex's VP.

Turns out the reporter was just another plot by Lionel, once again outsmarted by Lex.

Clark reads his speech to Lana. Cute.

third ep in a row where the KMOTW plot was way overshadowed. Almost as if that's not as important. Which I guess is a good thing – flipping the script and focus the show to the lives of all the characters rather than just Clark and a KMOTW. In this later part of the season I suppose that's smart. Just feels flat.
Next episode: Crush!