The Daily Rios Digest for February 13th, 2022: DC announces Dark Crisis. Best Action Scene of 2021. Afterburner Comics. And more! (41:04)
TIMESTAMPS:
(00:00) Monday Musings: Despiértate, A Call to Action
(03:56) Best of 2021: Best Action Scene
(09:37) New Comics Wednesday & Afterburner Comics
(20:27) Comic News: DC announces Dark Crisis
(33:08) Lost Episode: Comics are not passive entertainment.
LINKS:
Robert Stewart's Afterburner Comics
www.afterburnercomics.com
peter@thedailyrios.com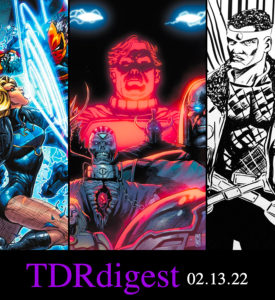 Podcast: Play in new window | Download (Duration: 41:04 — 57.3MB)