Final issues! Collections! And links to other suggested new comics!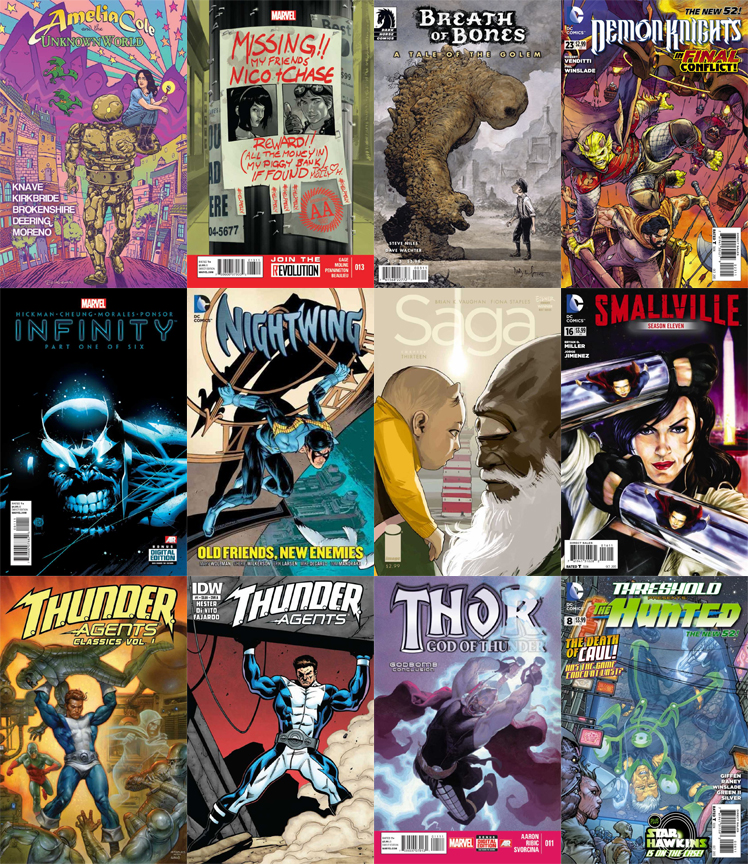 New Comics Wednesday finds a new format on the website. It makes sense to move these suggestions from the podcast and onto the site since links are sometimes provided. This way, I can drop all that info here in case anyone wants to follow through for more information. Onward!
FINAL ISSUES!
Demon Knights 23: Including the zero issue, this title lasted two years. Considering there was doubt that it would even go one year, this offbeat title held on as long as it could.
Thor God of Thunder 11: Not the final issue, but the final part of the "God Butcher" story that Jason Aaron has been building since issue 1. I'm a bit leery of bringing the focus back to Earth next issue, but we'll see what happens.
Threshold 8: Now that this has ended I'll absorb all eight issues and see if this lives up to some of the other Keith Giffen projects that I adore. His world building and storytelling is always appreciated – and his cosmic/space opera stuff (Reign of the Zodiac, Thanos, Annihilation) hits the right marks with me. I'm also considering tackling a Giffen related project in podcast form. Possibly. Maybe. Possibly.
FIRST ISSUES!
T.H.U.N.D.E.R.Agents 1: From IDW with writer Phil Hester and artist Andrea Di Vito. Not sure how interested I'll be, so I'll pass this along for others. (http://www.idwpublishing.com/news/article/2548)
ABOUT TIME!
Avengers Arena 13: A Marvel Now title that I've stuck with that finally attempts to answer a question I've had from the beginning: Why isn't anyone looking for these kids?! Haven't read it yet – and it's just a fill-in – but I'm glad they haven't completely ignored that part of the story.
COLLECTIONS!
Amelia Cole and the Unknown World vol.1: Also from IDW, the Monkeybrain digital title comes to print. Pointing this one out mostly because artist Nick Brokenshire was a finalist in a CGS contest from Episode 728 back in late 2009. And now he's working on a project of note. Kudos! (http://www.comicgeekspeak.com/episodes/comic_geek_speak-943.php) (http://www.monkeybraincomics.com/titles/amelia-cole/)
T.H.U.N.D.E.R.Agents Classics vol.1: Along with the new series, IDW is reprinting the first four issues from the Silver Age era including work by Wally Wood. (http://www.idwpublishing.com/news/article/2463/)
IT'S IN MY D.N.A.!
Infinity 1: Event comics! Hickman takes on Marvel cosmic. Okay. I'll bite. Interesting to note that Marvel has taken a cue from DC this time around (meaning, using the word "infinity" as a title concept). Sure, obvious echo of Infinity Gauntlet. But if you've been reading Hickman's Avengers, you know there's also a little bit of Crisis on Infinite Earths in there as well.
Nightwing: Old Friends, New Enemies tpb: Collecting stories from across his Action Comics Weekly run, my boy manages to squeeze out another tpb for himself. They bill these stories as "classic", but that's a stretch. They are, for the most part, forgettable. But hey – it's Nightwing. And look! Michael Kaluta cover! With modern coloring! Also cool to see the original Nightwing logo grace the cover. (http://www.dccomics.com/graphic-novels/nightwing-old-friends-new-enemies)
THE REST!
Breath of Bones: A Tale of the Golem 3 of 3: The Steve Niles/Dave Wachter mini-series from Dark Horse comes to a close. (http://www.darkhorse.com/Comics/22-774/Breath-of-Bones-A-Tale-of-the-Golem-3)
Saga 13: Just 'cause.
Smallville 'Season 11' 16: Wonder Woman! Well, Diana of the Amazons at least. It's no big secret this was coming. Just another comic to share for those interested.
—————————————————————————————————–
That's it for this week! What did you pick up?