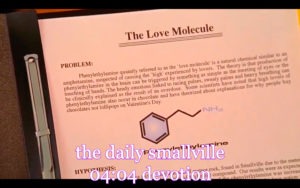 04:04: DEVOTED
Prologue
Clark feeling stuck on the bench. 

Kryptonite love potion gatorade / too soon after another Football romance angle in last ep?

Clark gets to step up / How does he get to be quarterback right away? / "I'm not the center jerk." Hysterical. 

Jason becomes a target for the first time. Where did Danny get the shotgun while still in his football gear if he was going to go shopping with his girl?

Clark saves the day. So heat vision knocks out Danny? Odd solution
Act One 
writer  Luke Schelgaus / director David Carson

"I've never seen anyone move that fast" – Jason asking questions about Clark

"my dad has cut me off" – he keeps bringing this up. Why?

Lana: "I've never been happier." Ohhh now Lana has something she can't tell people and that's eating at her. 

Lois still trying to get enrolled in college

Lois and Chloe: "It's not exactly your colors" / I mean, red and yellow are his colors tho?

No mention of Pete Ross this season so far 

Wish there was a little hint of the end of last ep when Chloe sees Clark and Lois walk in together

Lex buys the team new uniforms. "A fresh start". Is this Lex's way back into Clark's life? 

Yup. Clark calls him on it. Oddly parallel to when Lex bought Clark a car in season one after the big accident
Act Two 
Jason drinks. Chloe drinks. And of course she goes after Clark. Ugh. / wait – why didn't Jason go after Mandy if she was the first one he saw?

How do they not know to stay away from anything green after three seasons?

"I wasn't devoted to him." Title!

Lois discovers a "love particle" that the cheerleaders are using. How? / This dialogue is terrible.

Chloe hits on Clark in the barn / "things that Lana could never do" well, considering her future that's a given

Odd commercial cut after the kiss 
Act Three
uh oh. What did Clark and Chloe do?? / ah. Nothing happened 

"I'm not over Lana yet" / "There's somebody out there for you. I know it." And so did we.

Pa talks to Clark about how he's not fitting in on the team / Clark goes to Ma for feelings. And Pa for life events

Clark sees Lana at practice / wow, there really is no spark left with them anymore no matter how hard Clark is playing it

Chloe goes cheerleader / Clark finally realizes something is wrong. About time.

Don't drink Clark!! Kryptonite juice. / How do people not get sick if it's radiation of some sort?

Damn. Whoever took that hit got folded 

Clark starting to put pieces together

Damn. Jason beats up Clark with some skill. Clues. 

Lex to the rescue. Seeing Clark all bloodied. That doesn't happen often.
Act Four 
Clark covering for Jason

Lex gives Clark every file he has on him. 

"There's a darkness in me that I can't always control" / "your friendship helps keep it at bay". Oh sure. So it's Clark's responsibility. 

Clark and Lois teaming up and on the job again just like last ep / the chemistry experiment didn't work until they added Meteor rock Clark says. Lois doesn't know about that so she brushes it off

Wait – he knows it's called Kryptonite by now

Pool party. This is Joel Shumaker level dialogue and set design

Clark admits he's a virgin 

This is awful. Was s3 too dark that they feel these eps have to be silly?

Chloe Vs Lois over Clark. But Lois isnt Lana. And kicks Chloe's butt

Ah. Fire. Or Heat reverses things

So why did the cheerleaders did this in the first place? / because she felt like second fiddle to football

They are throwing the B word around a lot 

Oh come on. They are looking at Clark as he bursts the pipe!! 

Wait… that's it? That's the conclusion to the KMOTW? Yikes. 
Act Five
Lex has nothing left in his Clark room. Just the remains of his Porsche. He wants to give the friendship another shot. Clark doesn't seem so invested.

He asks if Lex can help him with a problem. Clark wants his help with Lois. Going to get her into Met U / is it just to get her out of Smallville? 

Clark throws a game winning Hail Mary. Pa doesn't look happy. 

Please let this be the last time Chloe and Clark have the feelings conversation. Almost like there's no love interest left for Clark

"Superhero and journalist. What are the odds?"

"White man power dance." ha!

"See you around Smallville" Lois leaves. Almost like Clark will miss her a little

In loving memory of Christopher Reeve. 

This doesn't hold up. The KMOTW angle feels overplayed. We've already seen this in Nicodemus in s1 and Rush in s2. Awful dialogue. It's embarrassing. There's decent character stuff but it's surrounded by a low rent plot. Yikes. 

Not a great send off for Lois either 

Other than the pilot so far, this season feels cheaper in budget or approach to filming and to antagonists. Hoping for an upswing.

Next episode: Run!