The Daily Rios Digest for October 7th, 2023: Thoughts on Tick, Tick… Boom! Finishing up Injustice Year One. Comicbook Trivia for October. And more! (1:06:26)
TIMESTAMPS:
(00:00) Movie Musical Monday: Tick, Tick… Boom!
(15:02) Timeline Trivia Tuesday: October 2023 part 1
(27:38) Comic Previews: for December
(37:21) The Daily Reads Thursday: Injustice part 1
(1:00:42) Smile!
LINK:
Steeven Orr podcast editor
www.fiverr.com/steevenorrelse
peter@thedailyrios.com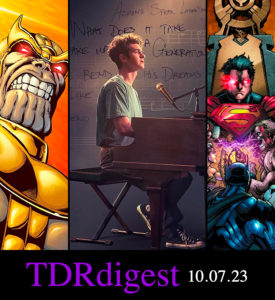 Podcast: Play in new window | Download (Duration: 1:06:26 — 61.7MB)
Subscribe: RSS