Hardcovers, collections and links to other comicbook suggestions.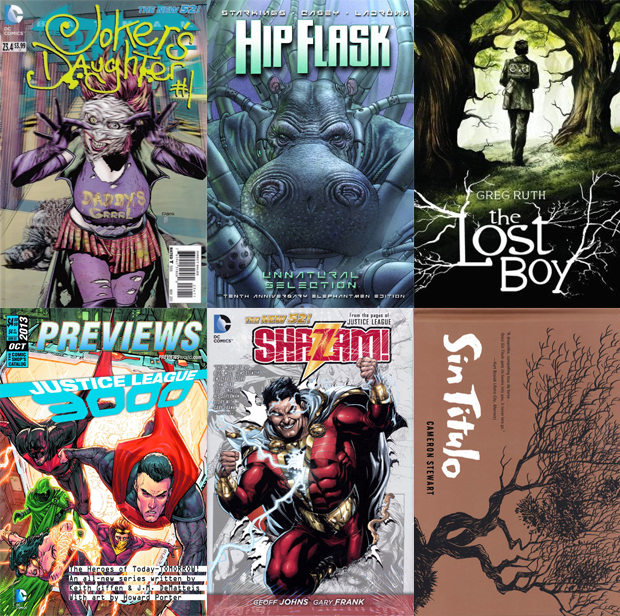 Info, previews and even digital editions can be found in the following links:
DARK KNIGHT 23.4: JOKER'S DAUGHTER
That the collectibility of this issue stems from early buzz caused by a Bleeding Cool article is so peculiar to watch. Granted, the character is appearing in one of the lower selling Batman titles (Dark Knight). It still is an interesting path to watch from solicit to hype to the shelf to ebay, etc. No doubt I'll be finding these issues in various cheap back issue bins during the 2014 con season.
www.dccomics.com/comics/batman-the-dark-knight-2011/batman-the-dark-knight-234-the-joker%E2%80%99s-daughter
HIP FLASK: UNNATURAL SELECTION: 10th ANNIVERSARY HC
www.imagecomics.com/comics/releases/hip-flask-unnatural-selection-10th-anniversary-elephantmen-edition-hc
THE LOST BOY by Greg Ruth
I believe I first came across Ruth's work at a con – I want to say Fan Expo Canada back in 2010 – but I can't remember. I have a flier somewhere in some box with a ton of comic goodies. Anyway, beyond all that, go to the site and check out his artwork. Good stuff.
www.gregthings.com/#!the-lost-boy/c142k
PREVIEWS
Mmmmm… future comic goodness. Look for a Previews post next week with all my thoughts and picks.
SHAZAM HC
Plenty of disagreements on this story, so it'll be interesting to see how it plays out as a whole.
www.dccomics.com/graphic-novels/shazam-vol-1
SIN TITULO HC by Cameron Stewart
www.darkhorse.com/Books/19-239/Sin-Titulo-HC