It's a great week for trying out new projects and creators. Read on!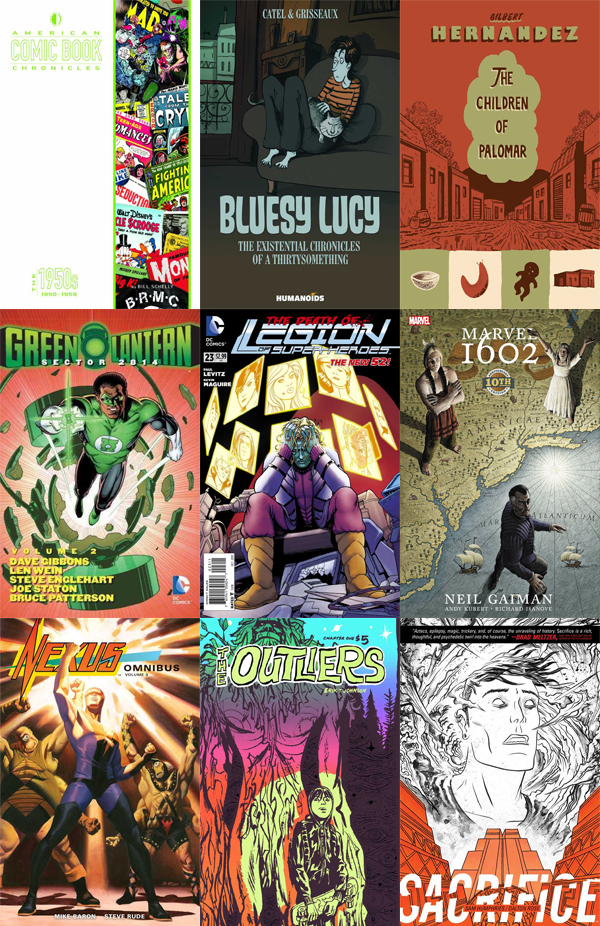 THE DIFFERENT!
Bluesy Lucy: the Existential Chronicles of a Thirtysomething HC:
http://www.humanoids.com/album/450
the Children of Palomar HC:
http://www.fantagraphics.com/browse-shop/the-children-of-palomar.html
Outliers 1:
http://eriktjohnson.us/
Sacrifice HC:
http://www.darkhorse.com/Books/19-492/Sacrifice-HC
THE MUST BUY!
American Comic Book Chronicles: The 1950s:
http://twomorrows.com/index.php?main_page=product_info&cPath=95_94&products_id=1111
THE HOW HAVE I NOT READ THIS ALREADY?!
Nexus Omnibus vol.3:
http://www.darkhorse.com/Books/22-142/Nexus-Omnibus-Volume-3-TPB
THE REST!
Green Lantern Sector 2814 tpb vol.2
Proof that John Stewart was relevant years before his turn on the Justice League cartoon. It's why I always scoff at the Jordan vs Stewart debate – Green Lantern comics of the mid to late 80s/early 90s had both. There was no need to pick favorites.
Marvel 1602 10th Anniversary Edition HC
Probably not the best Marvel Alterniverse-type story, but interesting enough to warrant a read if you're a Neil Gaiman fan. It sparked in me the idea that the Marvel Universe as a concept could forever be locked in a hero cycle, constantly emerging in various eras whenever needed. There would always be a Spider, there would always be Four elementals, there would always be a Thor, an Iron Man, a time lost hero, a band of misfits, etc.
THE MERCIFUL END!
Legion of Super-Heroes 23
There is nothing wrong with ending a series that is not selling well, is not winning new readers, and is in need of an overhaul. As companies have done with Aquaman, Thor, – heck, even Peter Parker, putting the Legion concept on the shelf to await a new, fresh pitch wouldn't be a bad thing. I don't even think you need a reboot of the continuity. Just mess around with the concept a bit. Multi-cultural young aliens in space adventures? Should be enough to spark imaginations in some creators. We'll see!